Manual D Residential Duct Systems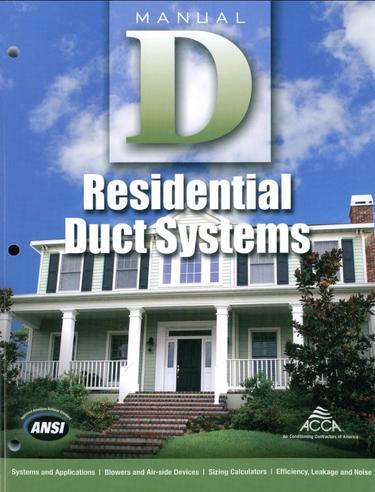 Print On Demand Available
Print on Demand books are individually printed when an order is placed and typically arrive between 7 - 10 business days. When placing an order, you'll be asked to choose a shipping address or pickup location.
Additional Book Details
The Third Edition of ANSI/ACCA Manual D is the Air Conditioning Contractorsof America procedure for sizing residential duct systems. This procedureuses Manual J (ANSI/ACCA, Eighth Edition) heating and cooling loads todetermine space air delivery requirements. This procedure matches duct system resistance (pressure drop) to blower performance (as defined by manufacture's blower performance tables). This assures that appropriate airflow is delivered toall rooms and spaces; and that system airflow is compatible with the operatingrange of primary equipment. The capabilities and sensitivities of this procedureare compatible with single-zone systems, and multi-zone (air zoned) systems. The primary equipment can have a multi-speed blower (PSC motor), or avariable-speed blower (ECM or constant torque motor, or a true variable speed motor).Edition Three, Version 2.50 of Manual D (D3) specifically identifiesnormative requirements, and specifically identifies related informative material.
| | |
| --- | --- |
| ISBNs | 2781892765437 |
| Language | English |